Life has been hectic so I haven't posted in a little while. But I do have some things to share, so here I am!
The 27th was my Birthday! The big 3-1. WoW. I'm "in" my thirties now. LoL. Anyway, Logan got me a Blackberry and I LOVE it! I'm still trying to figure out how it all works of course (cus I'm technically challenged LoL) but it's great. The night of my Birthday, Logan's mom and dad kept the baby so we could go out for a nice romantic dinner by ourselves. We went to Charley's Steakhouse which is FANTASTIC! I could exist on their salad alone, I swear. But the flourless chocolate cake is also to die for. It's one of my very favorite places to eat and we had a wonderful night.
Logan took this pic, please excuse the messy closet. I had just stood up from looking for my shoes when he said "Smile!!"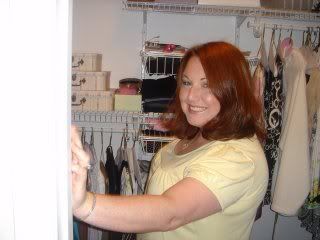 The love of my life :)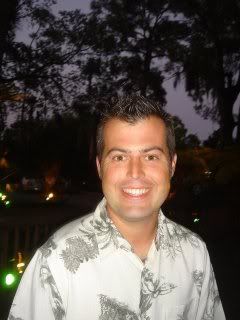 Outside the restaurant.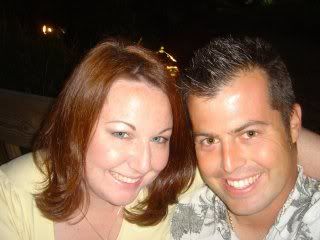 I had a great birthday!
On Saturday, Logan,me and the baby went fishing with Logan's dad on his boat. The weather was beautiful and Abigail loved the boat. She did get a bit seasick so we ended up coming home earlier than planned but, all in all, it was a really fun day.
Ahoy!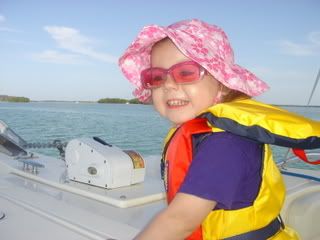 Driving the boat with Papa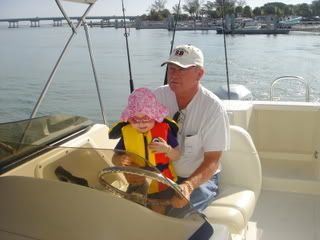 I love this picture.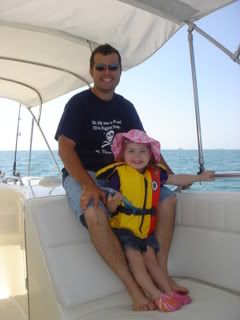 Taking a juice break.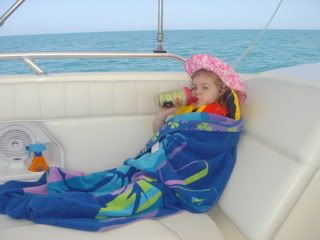 Daddy caught a fish!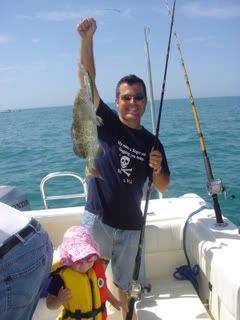 Then Mommy caught one too!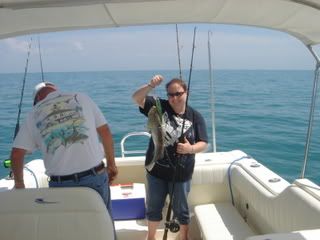 On Sunday Abigail spent the day with Nana and Papa, and Logan and I went to the Salvador Dali Museum in St. Petersburg. It was awesome!!! I knew some of his work of course, but it was really neat to take the museum tour and learn about him. We bought some very cool prints in the giftshop, including a boxed one of "The Rose" which I am completely in love with. Logan was excited that he found prints of "The Hallucinogenic Toreador" and "Soft Watch At Moment Of First Explosion", two of his very favorite works from Dali.
On the way home we stopped for a bite to eat at The Crab Shack, which is the VERY best place to have garlic butter crab claws and smoked Mullet spread. It looks like a really seedy dive from the outside (when Logan first brought me there I thought he was completely nuts. Until I tasted the food, of course) but the seafood is amazing. We try to stop there whenever we go over to St. Pete.
So that's my update! Today I have nothing planned except to clean, clean, clean! Thanks for reading, everyone!